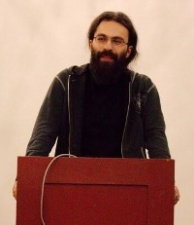 Konstantinos THOMAIDIS
Ph D
Bât C6, 230
Unité Matériaux et Transformations
Cité scientifique, Bât. C6
Université de Lille
59655 Villeneuve d'Ascq
France
Tel:
Fax: +33 (0) 320 43 65 91
Email

:
Send an email to Konstantinos THOMAIDIS
ORCID Identifier :
Research
Mineralogy - Geochemistry - Geology
Summary of the thesis
Water presence as OH point defects in the main upper mantle minerals (Opx, Cpx, Ol) plays an important role in the upper mantle, affecting many of its fundamental properties (i.e. melting, plasticity, conductivity). Mantle xenoliths provide a direct access to mantle lithosphere. It is widely assumed that the water signature recorded by the nodules (xenoliths) is representative of mantle conditions, but it remains a hypothesis and the question of how we can interpret the measurements done worldwide on these nodules is still unsolved.
The aim of this thesis is to evaluate the effect of the transport of mantle nodules in the concentration and distribution of water among the mineral phases of Opx and Cpx. It directly addresses the fundamental question: do mantle xenoliths preserve water signature from the lithospheric mantle and how? This future work will determine the diffusion mechanisms that control hydrogen exchange between the nodules and the host magma; looking at the role of bulk diffusion versus grain boundary diffusion through experiments and numerical modelling.
Employment and education
2016-2018 Research/Lab assistant | Geochemistry, Petrology and Volcanology research group, Department of Earth Sciences, Uppsala University, Sweden
2018 MSc: Earth Science, specialization Geology | Uppsala University, Sweden
2013 BSc: Geology, specialisation Mineralogy - Petrology | Aristotle University of Thessaloniki, Greece
Communications