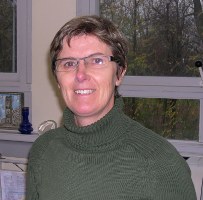 Maryse BACQUET
Professeur Université de Lille, FST-Dép. Chimie
Bâtiment C6, Bureau 119
Unité Matériaux et Transformations
Cité scientifique, Bât. C6
Université de Lille
59655 Villeneuve d'Ascq
France
Tel: 03 20 43 46 35
Fax: +33 (0) 320 43 65 91
Courriel

:
Envoyer un mel à Maryse BACQUET
Identifiant ORCID :
Recherche
Elaboration et propriétés de polymères et matériaux hybrides à fonctionnalités ciblées.
Enseignement
Enseignements à l'UFR de chimie en Master I Physique-chimie, Master II Spécialité "Ingénierie des Systèmes Polymères", en Licence professionnelle « Elaboration et Transformation des polymères organiques » et en Licence professionnelle Procédés et Chimie pour le Développement Durable, PCDD. Responsable du Master mention Chimie spécialité "
Ingénierie des Systèmes Polymères
"
Thèses soutenues
Camille Saffre, Eco-conception de textiles d'échange ionique fonctionnalisés par des polymères biosourcés pour la décontamination métallique de sédiments de dragage. Thèse soutenue en 2015. Co-directeurs: Bernard MARTEL, Stéphanie DEGOUTIN. Devenir post-thèse: Chargée de veille et intelligence économique chez Matikem .
Cécile Birck, Conception et caractérisation de films antimicrobiens à base de poly(alcool vinylique) pour l'emballage à contact alimentaire . Thèse soutenue en 2014. Co-directeurs: Valérie GAUCHER, Stéphanie DEGOUTIN. Devenir post-thèse: Ingénieur R&D chez Macopharma.
Willai Stéphanie, Matériaux organosilicés mésoporeux porteurs de Béta-cyclodextrine et de fonctions amines: synthèse par voie sol-gel structurante et propriétés. Thèse soutenue en 2007.
Ducoroy Laurent, Modification de fibres de polyester pour l'obtention de textiles échangeurs d'ions – Application à la dépollution métallique des eaux . Thèse soutenue en 2006. Co-directeur: Bernard MARTEL.
Ghoul Mouloud, Elaboration of composite silica/polymers for metallic remediation in aqueous media. Thèse soutenue en 2003.
Phan Thi Ngoc Trang, Supports based on silica and cyclodextrins : characterization depollution applications. Thèse soutenue en 2000.
Degremont Emmanuelle, Polyamines adsorbed onto silica : characterization and application in water treatment. Thèse soutenue en 1996.
Publications
Liste complète (Le lien peut être lent)
Communications
Liste complète (Le lien peut être lent)