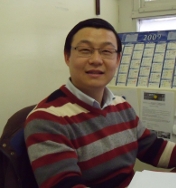 Gang JI
Chargé de Recherche CNRS - HDR
Bâtiment C6 - 229
Unité Matériaux et Transformations
Cité scientifique, Bât. C6
Université de Lille
59655 Villeneuve d'Ascq
France
Tel: +33 (0) 320 43 69 65
Fax: +33 (0) 320 43 65 91
Courriel

:
Envoyer un mel à Gang JI
Identifiant ORCID

:
0000-0002-2415-6275
Recherche
(i) Caractérisation et ingénierie des interfaces dans les (nano)composites à matrice métallique pour de hautes performances fonctionnelles, (ii) Caractérisations et études microstructurales en relation avec les propriétés macroscopiques par microscopie électronique à transmission ((HR)TEM, ACOM, SAED, CBED, PED...).
Enseignement
Traitement thermique.
Thèses en cours
Renata DE OLIVEIRA MELO, Étude de la relation entre les microstructures complexes et les propriétés de rupture de l'acier inoxydable. Thèse débutée en 2023. Co-direction: Jérémie BOUQUEREL.
Jingnan MA, Preparation, microstructure and properties of advanced multifonctions composites by powder metallurgy . Thèse débutée en 2021. Co-direction: YANG Fei.
Ana KATIUCE FELLENBERG, Nanoconfinement pour la production de molécules de plateforme à partir de biogaz avec une sélectivité accrue. Thèse débutée en 2019. Co-direction: KHODAKOV Andrei.
Thèses soutenues
Sabrina MACALUSO, Interfaces dans Al / TiB2 / Mg(Zn,Cu)2 : étude atomique, influence sur les morphologies et propriétés. Thèse soutenue en 2022. Co-direction: Rémy BESSON, Ludovic THUINET.
SHEN Zhengyan, Fabrication, using semi-liquid continuous process, and characterization of composite metal matrix materials using graphite flakes as reinforcement and metallic (Al and Cu) flakes as matrix . Thèse soutenue en 2020. Co-direction: Silvain Jean François.
Xinliang XIE, Fabrication additive par projection à froid et caractérisation de matériaux composites nanotubes de carbon/Al . Thèse soutenue en 2019. Co-direction: LIAO Hanlin.
Yu MA, Etude de matériaux composites à matrice d'aluminium renforcée par des nanoparticules TiB2 pour la MET . Thèse soutenue en 2019. Co-direction: Vincent JI .
Run XU, On the study of strengthening mechanisms of the bioinspired MWCNT/Al nanocomposites . Thèse soutenue en 2019. Co-direction: LI Zhiqiang.
Devadas BHAT PANEMANGALORE, Development of magnesium-based alloys for biomedical applications. Thèse soutenue en 2019. Co-direction: Rajashekhara SHABADI. Devenir post-thèse: Assistant Lecturer.
Publications
Liste complète (Le lien peut être lent)
Communications
Liste complète (Le lien peut être lent)