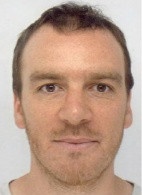 Corentin LE GUILLOU
Chargé de Recherches CNRS, Terre et planètes telluriques : structure, histoire, modèles
Bâtiment C6 - 1er Etage - Bureau 112
Unité Matériaux et Transformations
Cité scientifique, Bât. C6
Université de Lille
59655 Villeneuve d'Ascq
France
Tel: +33 (0)320 43 49 66
Fax: +33 (0) 320 43 65 91
Courriel

:
Envoyer un mel à Corentin LE GUILLOU
Identifiant ORCID :
Recherche
Cosmochimie; Interactions eau-silicates-matière organique dans les météorites; Experiences en conditions hydrothermales; Microscopie électronique à transmission et spectroscopie d'absorption X (STXM, synchrotron).
Thèses soutenues
Maxime MORGANO, Eau des chondrites : approche expérimentale de l'intéraction eau-silicates . Thèse soutenue en 2023. Co-direction: Hugues LEROUX. Devenir post-thèse: Ingénieur recherche/développement, Cerfav, centre français expert du matériau verre et des procédés verriers.
Pierre-Marie ZANETTA, Étude de l'accrétion des premiers solides de notre système solaire par microscopie électronique avancée. Thèse soutenue en 2019. Co-direction: Hugues LEROUX, Brigitte Zanda. Devenir post-thèse: Postdoc research associate at the Lunar and Planetary Laboratory, University of Arizona.
Publications
Liste complète (Le lien peut être lent)
Communications
Liste complète (Le lien peut être lent)