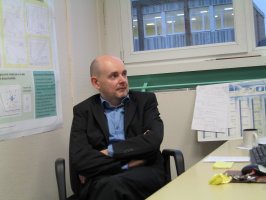 Frédéric AFFOUARD
Professeur Université de Lille, Directeur Adjoint du Laboratoire
Bâtiment P5 - 221
Unité Matériaux et Transformations
Cité scientifique, Bât. P5
Université de Lille
59655 Villeneuve d'Ascq
France
Tel: +33 (0)3 20 43 68 15
Fax: +33 (0)3 20 43 40 84
Courriel

:
Envoyer un mel à Frédéric AFFOUARD
Identifiant ORCID

:
0000-0001-8429-6416
Recherche
Etat physique des matériaux moléculaires et transformations. Compréhension des mécanismes physiques de la transition vitreuse de matériaux moléculaires composés de petites molécules organiques (cristaux vitreux, liquides). Optimisation de la stabilité des biomolécules. Simulation de dynamique moléculaire. Diffusion neutronique.
Enseignement
Enseignements au Département de Physique de la Faculté des Sciences: - L2/L3: UE "Projet Etudiant (PE) : Matériaux Innovants et Chimie Verte"- Master1 ( Physics of the XXIst century ): "Thermodynamics & Statistical Physics"- Master2: "Transformations de phases" et "Modélisation". Coordinateur du Master Erasmus Mundus BIOPHAM "bio&Pharmaceutical Materials Science"
https://www.master-biopham.eu
Thèses en cours
Simon SAMSOEN, Design et caractérisation physique de matrices polymères pour l'optimisation de la libération de principes actifs pharmaceutiques . Thèse débutée en 2020. Co-direction: Patrice WOISEL, Emeline DUDOGNON.
Thèses soutenues
Jeanne-Annick BAMA, Stabilité et mobilité des matériaux pharmaceutiques multi composants moléculaires . Thèse soutenue en 2021. Co-direction: Emeline DUDOGNON.
Luisa ROCA PAIXAO, Investigation de l'état physique de nouveaux matériaux pour la formulation de molécules pharmaceutiques de très faible solubilité . Thèse soutenue en 2020. Co-direction: Natalia CORREIA TEIXERA.
Frédéric NGONO MEBENGA, Etude de matériaux pharmaceutiques amorphes par simulation de dynamique moléculaire et diffusion neutronique. Thèse soutenue en 2017. Co-direction: Jean-François WILLART.
Joseph Gerges, Etude numérique des facteurs physiques responsables de la capacité à vitrifier/recristalliser de matériaux modèles d'intérêt pharmaceutique. Thèse soutenue en 2015. Devenir post-thèse: Enseignant-Formateur.
Martin Thierry Ottou Abe, Étude par simulation de dynamique moléculaire de la structure et de la mobilité moléculaire de matériaux complexes d'intérêt thérapeutique
THESE EN CO-TUTELLE AVEC LE PROF. NDJAKA DE L'UNIVERSITE YAOUNDE 1 (CAMEROUN). Thèse soutenue en 2014. Devenir post-thèse: Chargé de Recherche (Univ. Yaoundé I, Cameroun).
Samira Achir, Etude des mécanismes de stabilisation des protéines par spectroscopie Raman et dynamique moléculaire . Thèse soutenue en 2014. Co-direction: Alain HEDOUX. Devenir post-thèse: Enseignante/Formatrice chez Université européenne des métiers de la finition CFA Gestes Formation.
Rémy Dubois, Investigation numérique et expérimentale de la stabilité et de la solubilité des solides pharmaceutiques amorphes visant à améliorer la biodisponibilité des médicaments. Thèse soutenue en 2013.
Rémi Busselez, Étude de fluides bioprotecteurs en confinement. Thèse soutenue en 2008. Co-direction: Denis Morineau.
Adrien Lerbret, Étude de l'action bioprotectrice des sucres : une investigation par dynamique moléculaire et spectroscopie Raman. Thèse soutenue en 2005. Co-direction: Alain HEDOUX, Marc DESCAMPS. Devenir post-thèse: Ingénieur de Recherche - Université de Bourgogne-AgroSup Dijon.
Publications
Liste complète (Le lien peut être lent)
Communications
Liste complète (Le lien peut être lent)