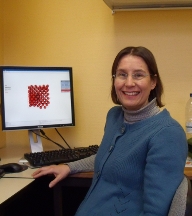 Charlotte BECQUART
Professor
Bâtiment C6 - 231
Unité Matériaux et Transformations
Cité scientifique, Bât. C6
Université de Lille
59655 Villeneuve d'Ascq
France
Tel: +33 (0) 320 43 49 44
Fax: +33 (0) 320 43 65 91
Email

:
Send an email to Charlotte BECQUART
ORCID Identifier

:
0000-0002-0164-1745
Research
Simulations at the atomistic level of radiation damage in metallic alloys (ab initio calculations, molecular dynamics, kinetic monte carlo).
Teaching
Metallurgy, applied thermodynamics, modelling and surface treatments.
Current PhD thesis
Adithya NAIR, Modeling the primary damage to the evolution of the microstructure under irradiation with ions and neutrons . Thesis started in 2019. Other co-advisor: DOMAIN Christophe.
Céline PARé, Prévisions de l'évolution microstructurale jusqu'à fin de vie sous irradiation d'alliages ferritiques par simulations numériques . Thesis started in 2018.
Defended PhD thesis
Clovis LAPOINTE, La modélisation multi-échelle des défauts d'irradiation dans les métaux cubiques centrés. Thesis defended in 2022. Other co-advisors: MARINICA Cosmin, DUPUY Laurent, PROVILLE Laurent. Position: .
Yannick Yimi WANG, Modélisation multi échelles des ma diffusion et de la ségrégation dans les alliages Fe-Ni-Cr sous irradiation . Thesis defended in 2021. Other co-advisor: SOISSON Frédéric.
Gabriel Franck BOUOBDA MOLADJE, Contribution to phase-field modelling of irradiation damage in metallic alloys . Thesis defended in 2020. Other co-advisors: Alexandre LEGRIS, Ludovic THUINET.
Romain CANDELA, Modélisation du vieillissement statique dans le Fer par simulation à l'échelle atomique . Thesis defended in 2019. Position: Ingénieur chez Sopra Steria.
Monica Chiapetto, Computer simulation of the nanostructural evolution under irradiation in ferritic alloys. Thesis defended in 2017. Other co-advisor: MALERBA Lorenzo. Position: Lead Design Engineer at Sensata Technologies.
Baptiste Pannier, Towards the prediction of microstructure evolution under irradiation of model ferritic alloys with an hybrid AKMC-OKMC approach. Thesis defended in 2017. Other co-advisor: Domain Christophe. Position: Applied Research Scientist / Data Scientist chez Samsung AI Labs.
Jean-Baptiste Piochaud, Modelling of radiation induced segregation in austenitic Fe alloys at the atomistic level. Thesis defended in 2013. Position: Data Scientist @ Valiuz.
Davide Costa, Modelling the thermal ageing evolution of Fe-Cr alloys using a lattice kinetic Monte Carlo approach based on DFT calculations. Thesis defended in 2012. Other co-advisor: Alexandre LEGRIS.
Publications
Full list (The link could be slow)
Conference presentations
Full list (The link could be slow)