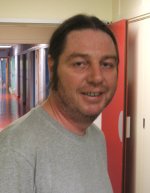 Jean-Michel GLOAGUEN
Professor
Bâtiment C6 - 205
Unité Matériaux et Transformations
Cité scientifique, Bât. C6
Université de Lille
59655 Villeneuve d'Ascq
France
Tel: +33 (0)3 20 33 71 24
Fax: +33 (0) 320 43 65 91
Email

:
Send an email to Jean-Michel GLOAGUEN
ORCID Identifier :
Defended PhD thesis
Saadia Ouchiar, Structure-physical properties relationships of biocomposites based on biopolymer filled with clays: Influence of the nature and the content of the filler. Thesis defended in 2016. Other co-advisors: Grégory STOCLET, Cyrille Cabaret, Vincent Gloaguen. Position: R&D manager.
J Soulestin, Elaboration et comportement mécanique de nanocomposites à matrice PMMA et renfort plaquettaires . Thesis defended in 2004. Other co-advisor: Jean-Marc LEFEBVRE. Position: Maitre de conférence, Ecole des mines de Douai.
Patents
2013 - B. Hue, J. M. Gloaguen: Suivi de la striction d'un matériau quel que soit son aspect par deux caméras 3D.
Brevet FR n°1360061 déposé le 16/10/2013
2006 -

R. Delobel

, S. Duquesne, J. M. Gloaguen, C. Jama, J. M. Lefebvre, P. Bardollet: Polymer matrix composites comprising a two-filler population .
WO2006018495 (A1)par CNRS
Publications
Full list (The link could be slow)
Conference presentations