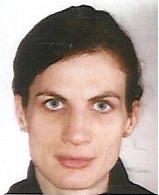 Sophie BARRAU
Professor
Bâtiment C6 - 107
Unité Matériaux et Transformations
Cité scientifique, Bât. C6
Université de Lille
59655 Villeneuve d'Ascq
France
Tel: +33 (0) 320 43 49 60
Fax: +33 (0) 320 43 65 91
Email

:
Send an email to Sophie BARRAU
ORCID Identifier

:
0000-0003-4790-9994
Research
Piezoelectric polymers and composites, structure - properties relationships
Teaching
Department of Physics
Projects
ANR NanoPiC, Study of the multi-scale piezoelectric behavior of innovative micro- and nano-structured composites - Projet de Recherche Collaborative - Défi : "Stimuler le Renouveau Industriel"
Current PhD thesis
Thibaut MOREL, Matériaux nanocomposites fonctionnels aux propriétés piézoélectriques et thermoélectriques ajustables . Thesis started in 2022. Other co-advisor: Jean-François BRUN.
Mélanie GIRARDOT, Matériaux hybrides complexes à réponse piezoélectrique optimiseé. Thesis started in 2021. Other co-advisor: Joël LYSKAWA.
Defended PhD thesis
Ahmad HAMIEH, Synthesis and micro-structuring of lead-free piezoelectric films for the production of ceramic / polymer composites. Thesis defended in 2021. Other co-advisors: Freddy Ponchel, Denis Remiens.
Cuong NGUYEN THAI, Nanoscale characterization of piezoelectric bio-based polymers for their potential energy harvesting applications. Thesis defended in 2021. Other co-advisor: Philippe Leclere.
Vincent BOUAD, Etude de l'adhésion interfaciale dans les composites piézoélectriques à matrice fluopolymère. Thesis defended in 2021. Other co-advisor: Vincent Ladmiral.
Maroua LOUATI, Multi-scale study of photoactive thin films based on the supramolecular assembly of photochromic molecular switches and polymer. Thesis defended in 2019. Other co-advisor: Stéphane Aloïse. Position: Ingénieur R&D société ALIAXIS.
Juliette Defebvin, Study of the relationships between structure and properties of piezoelectric hybrid materials based on PVDF. Thesis defended in 2015. Other co-advisor: Jean-Marc LEFEBVRE.
Publications
Full list (The link could be slow)
Conference presentations
Full list (The link could be slow)