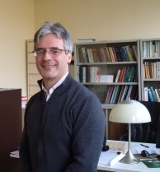 Alexandre LEGRIS
Professor at Polytech'Lille
Bâtiment C6 - 225
Unité Matériaux et Transformations
Cité scientifique, Bât. C6
Université de Lille
59655 Villeneuve d'Ascq
France
Tel: (+33) 03 20 33 63 83
Fax: +33 (0) 320 43 65 91
Email

:
Send an email to Alexandre LEGRIS
ORCID Identifier

:
0000-0002-9133-756X
Research
Modeling phase transition in metallic alloys submitted or not to radiations.
Teaching
Crystallography, corrosion, phase transformations.
Current PhD thesis
Hadrien LEGUY, Compréhension et optimisation des traitements thermomécaniques d'aciers austénitiques avancés pour améliorer leur résistance à l'irradiation . Thesis started in 2022.
Defended PhD thesis
Lucas AUTONES, Elaboration et étude du comportement sous irradiation d'aciers ODS obtenus par fabrication additive. Thesis defended in 2022.
Amal ISSAOUI, Comportement sous irradiation d'aciers renforcés par dispersion d'oxydes nanométriques pour le gainage combustible des réacteurs de 4ème génération. Thesis defended in 2020.
Gabriel Franck BOUOBDA MOLADJE, Contribution to phase-field modelling of irradiation damage in metallic alloys . Thesis defended in 2020. Other co-advisors: Charlotte BECQUART, Ludovic THUINET.
Adrien VAUGOUDE, Développement de nouvelles nuances d'aciers austénitiques pour le gainage des futurs réacteurs à neutrons rapides. Thesis defended in 2019.
Benjamin CHRISTIAEN, Etude des mécanismes de grandissement des alliages de zirconium, rôle de l'hydrogène et du fer . Thesis defended in 2018. Other co-advisor: Ludovic THUINET. Position: CDI : Développeur chez HRTeam Lille.
Jérôme Dequeker, Using electronic structure calculations for a controlled elaboration of third generation steels with duplexe structure for car industry. Thesis defended in 2018. Other co-advisors: Rémy BESSON, Ludovic THUINET.
Baptiste Rouxel, Development of advanced austenitic stainless steels resistant to void swelling under irradiation. Thesis defended in 2016. Other co-advisor: Decarlan Yves.
François Housaer, Synthesis and characterization of Aluminum/Carbon nanotubes composites produced by powder metallurgy routes. Thesis defended in 2015. Other co-advisor: Franck BéCLIN. Position: Ingénieur chez ThyssenKrupp electrical Steel UGO à Isbergues.
Hadrien Rouchette, Sink efficiency calculation of dislocations in irradiated materials by phase-field modelling. Thesis defended in 2015. Other co-advisor: Ludovic THUINET. Position: Ingénieur R&D chez Évolution Énergie (URL : http://evolutionenergie.com/).
Davide Costa, Modelling the thermal ageing evolution of Fe-Cr alloys using a lattice kinetic Monte Carlo approach based on DFT calculations. Thesis defended in 2012. Other co-advisor: Charlotte BECQUART.
Petrica Gasca, Zirconium - ab initio modelling of point defects diffusion. Thesis defended in 2010. Position: Ingénieur qualité à Arcelor Mittal Galati (Roumanie).
Publications
Full list (The link could be slow)
Conference presentations
Full list (The link could be slow)