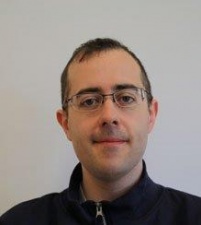 Jérémie BOUQUEREL
Assistant Professor
Bâtiment C6 - bureau 225 - 2è Etage
Unité Matériaux et Transformations
Cité scientifique, Bât. C6
Université de Lille
59655 Villeneuve d'Ascq
France
Tel: +33 (0) 320 43 42 29
Fax: +33 (0) 320 43 65 91
Email

:
Send an email to Jérémie BOUQUEREL
ORCID Identifier

:
0000-0002-0254-0022
Research
Study of the local plastic deformation of metallic materials by means of EBSD analyses.
Teaching
Metallurgy, Microscopy and other analysis methods, Finite Element modelling, Python and Scilab programming
Current PhD thesis
Renata DE OLIVEIRA MELO, Étude de la relation entre les microstructures complexes et les propriétés de rupture de l'acier inoxydable. Thesis started in 2023. Other co-advisor: Gang JI.
Defended PhD thesis
Publications
Full list (The link could be slow)
Conference presentations
Full list (The link could be slow)