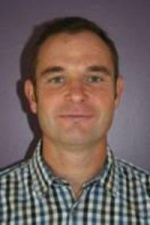 Guillaume DELAPLACE
Directeur de recherche INRAE, Directeur Adjoint du Laboratoire
CERTIA, Bâtiment INRAE PIHM, RB2
Unité Matériaux et Transformations
Institut national de recherche pour l'agriculture, l'alimentation et l'environnement
369 rue Jules Guesde
BP 20039
59651 Villeneuve d'Ascq
France
Tel: +33 (0)3 20 43 54 37
Courriel

:
Envoyer un mel à Guillaume DELAPLACE
Identifiant ORCID

:
0000-0001-7618-3243
Recherche
Interfaces aliments/surfaces dans les agro-industries

Transferts, mélange, analyse dimensionnelle
Thèses en cours
Luis Gustavo LIMA NASCIMENTO, Hydrogels réticulés de caséine/protéines avec la transglutaminase comme matrice de protection et de libération d'anthocyanes d'açai et jaboticaba . Thèse débutée en 2020. Co-directeur: Paulo PERES DE SA PEIXOTO JUNIOR.
Angella VELAZQUEZ DOMINGUEZ, Comportement des protéines de lait dans un milieu acide : Du process à la formulation de boissons acides . Thèse débutée en 2020.
Weiji LIU, Chaperon like proteins casein on the denaturation and aggregation of the viley proteins. Thèse débutée en 2018.
Thèses soutenues
Manon SAGET, Mise au point de revêtements anti-encrassants sur acier. Thèse soutenue en 2022. Co-directeurs: Maude JIMENEZ, COFFINIER Yannick.
Marcio Henrique NOGUEIRA, Influence des structures moléculaires des caséïnes sur les fonctionnalité d'isolats protéïques de lait . Thèse soutenue en 2020. Co-directeurs: Paulo PERES DE SA PEIXOTO JUNIOR, KAROUI Romdhane.
Domitille DE GUIBERT, Conception d'itinéraires technologiques innovants pour la production et la stabilisation par séchage d'assemblages protéiques fractals . Thèse soutenue en 2020. Co-directeur: JEANTET Romain.
Alexandre BERTH, Contrôle de production de lipopeptide en bioréacteur à biofilm aéré par membrane . Thèse soutenue en 2019. Co-directeurs: DHULSTER Pascal, LECOUTURIER Didier.
Bowei CHEN, Evaluation par voie ultrasonore de l'adhésion de dépôts laitiers en surfaces inertes . Thèse soutenue en 2019. Co-directeur: Pascal DEBREYNE.
Tatiana LOPES FIALHO, La poudre de lait hydrolysée au lactose: optimisation du séchage et étude des propriétés structurelles et fonctionnelles. Thèse soutenue en 2019. Co-directeurs: Paulo PERES DE SA PEIXOTO JUNIOR, FERNANDES DE CARVALHO Antonio.
Laurent BOUVIER, Contribution à l'étude de la formation et de l'élimination de dépôts protéiques d'origine laitière dans les zones de chauffage et de chambrage : développement et étude d'un capteur d'encrassement et d'un mélangeur statique tourbillonnaire. Thèse soutenue en 2018. Co-directeur: Lalot Sylvain.
Sarah Nasser, Évolution des propriétés structurales et fonctionnelles des poudres de PhosPho Caséinate Native (PPCN) en lien avec l'état initial et les conditions de vieillissement. Thèse soutenue en 2017. Co-directeur: Alain HEDOUX. Devenir post-thèse: Specialiste de recherche chez Ingredia Dairy Experts.
Marwa Khaldi, Étude du lien entre la physico-chimie de dérivés laitiers et leur aptitude à l'encrassement lors du traitement thermomécanique en échangeur de chaleur. Thèse soutenue en 2016. Co-directeur: Jeantet Romain.
Nicolas Collier, Développement d'un outil ultrasonore de caractérisation des propriétés d'adhésion de milieux modèles avec application aux dépôts laitiers. Thèse soutenue en 2014. Co-directeur: Nongaillard Bertrand.
Publications
Liste complète (Le lien peut être lent)
Communications
Liste complète (Le lien peut être lent)