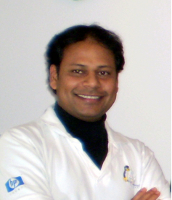 Rajashekhara SHABADI
Associate Professor
Bâtiment C6 - 229
Unité Matériaux et Transformations
Cité scientifique, Bât. C6
Université de Lille
59655 Villeneuve d'Ascq
France
Tel: +33 (0) 320 33 62 24
Fax: +33 (0) 320 43 65 91
Email

:
Send an email to Rajashekhara SHABADI
ORCID Identifier

:
0000-0003-0543-5188
Research
Solid State Phase Transformations, Study of precipitation phenomena in steels, Characterization of nano scale features (HREM, EELS, SAXS, SANS et PAS) and synthesis of new materials under extreme conditions.
Teaching
Physical Metallurgy, Crystallography and Microscopy.
Current PhD thesis
Divyanshu AGGARWAL, Development of Magnesium based alloys as an alternative bio-material for bone tissue engineering. Thesis started in 2023.
Rajesh KUMARI RAJENDRAN, Verres métalliques multicomposants à base de magnésium pour applications biomédicales . Thesis started in 2021.
Manisha BEHERA, Nano composites based on magnesium for orthopedic applications. Thesis started in 2020.
Defended PhD thesis
Devadas BHAT PANEMANGALORE, Development of magnesium-based alloys for biomedical applications. Thesis defended in 2019. Other co-advisor: Gang JI. Position: Assistant Lecturer.
Publications
Full list (The link could be slow)
Conference presentations
Full list (The link could be slow)