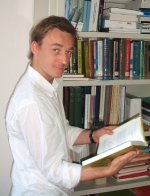 Damien JACOB
Full professor
Bâtiment C6 - 216
Unité Matériaux et Transformations
Cité scientifique, Bât. C6
Université de Lille
59655 Villeneuve d'Ascq
France
Tel: +33 (0) 320 43 47 78
Fax: +33 (0) 320 43 65 91
Email

:
Send an email to Damien JACOB
ORCID Identifier

:
0000-0001-7931-7171
Research
Microstructural characterization. Transmission Electron Microscopy. Electron diffraction using convergent beam methods and precession. Applications in mineral science.
Teaching
General physics at the university : mechanics, physics for Earth science, computer science, thermodynamics. Teaching in specialized courses in TEM and its applications.
Current PhD thesis
Bahae Eddine MOULOUD, Nanoanalyse structurale d'astromatériaux par 4D-STEM . Thesis started in 2020.
Defended PhD thesis
Estelle LEDOUX, Transformation and deformation microstructures in the Earth mantle: application to periclase and wadsleyite. Thesis defended in 2021. Other co-advisor: Sébastien MERKEL. Position: En post-doctorat, Department of Geology & Geophysics - The University of Utah, Etats-Unis.
Yvan Georges Ngassa Tankeu, Structural analysis of mineralogical oxydes at the nanometric scale using quantitative electron diffraction. Thesis defended in 2018. Position: Analyste Programmeur chez IBM.
Baptiste Stephan, A kinetic and microstructural study of order-disorder transformation in Ni2Cr alloys with low iron content. Thesis defended in 2018. Other co-advisor: Delabrouille Frédéric. Position: Ingénieur expert matériaux chez Vulcain Services.
Priscille Cuvillier, Quantitative analysis of diffusion phenomena in meteorite samples. Transmission electron microscopy study. Thesis defended in 2014. Other co-advisor: Hugues LEROUX. Position: Ingénieure Microscopiste et Matériaux à EDF.
Julien Stodolna, Transmission electron microscopy study of cometary samples from the Startdust mission. Thesis defended in 2010. Other co-advisor: Hugues LEROUX. Position: Research engineer at EDF R&D MMC Metallurgy.
Publications
Full list (The link could be slow)
Communications
Full list (The link could be slow)