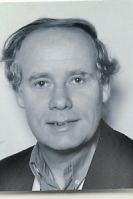 Alain HEDOUX
Professor
Bâtiment P5 - 253
Unité Matériaux et Transformations
Cité scientifique, Bât. P5
Université de Lille
59655 Villeneuve d'Ascq
France
Tel: +33 (0)3 20 43 46 77
Fax: +33 (0)3 20 43 40 84
Email

:
Send an email to Alain HEDOUX
ORCID Identifier

:
0000-0002-8244-3512
Research
Analysis of the structural organisation and the dynamics of molecular glass-forming systems in amorphous and crystalline states – mechanisms of phase transformation, stabilization of amorphous drugs (small molecules, proteins) by excipients. Experimental investigations by Raman spectroscopy, neutron scattering, X-Ray diffraction, calorimetry.
Teaching
IUT A – department Mesures Physiques : point mechanics, solid mechanics, fluid mechanics. Master : Structural organisation of condensed matter.
Current PhD thesis
Defended PhD thesis
Benjamin MALFAIT, Amélioration de la stabilité et de la biodisponibilité de matériaux pharmaceutiques et de biopharmaceutiques par confinement dans des systèmes à libération controlée . Thesis defended in 2019. Other co-advisor: Natalia CORREIA TEIXERA. Position: Material Scientist | Solid-state expertise on small organic molecules.
Tatiana STARCIUC, Stabilization of biomolecular materials for pharmaceutical applications. Thesis defended in 2017. Position: Docorante puis ATER à l'UMETCDI chez Astrazeneca.
Sarah Nasser, Evolution of the structural and functional properties of micellar casein powders in relation to initial state and aging conditions. Thesis defended in 2017. Other co-advisor: Guillaume DELAPLACE. Position: Specialiste de recherche chez Ingredia Dairy Experts.
Samira Achir, The protein stabilizing mechanisms investigated by Raman scattering and molecular dynamics simulations. Thesis defended in 2014. Other co-advisor: Frédéric AFFOUARD. Position: Enseignante/Formatrice chez Université européenne des métiers de la finition CFA Gestes Formation.
Adrien Lerbret, Study of the biopreservative capabilities of sugars: investigation from molecular dynamics and Raman spectroscopy. Thesis defended in 2005. Other co-advisors: Frédéric AFFOUARD, Marc DESCAMPS. Position: Ingénieur de Recherche - Université de Bourgogne-AgroSup Dijon.
Thomas Denicourt, Etude spectroscopique de systèmes désordonnés profondément sous-refroidis . Thesis defended in 2002. Other co-advisor: Marc DESCAMPS. Position: Responsable informatique.
Publications
Full list (The link could be slow)
Conference presentations
Full list (The link could be slow)